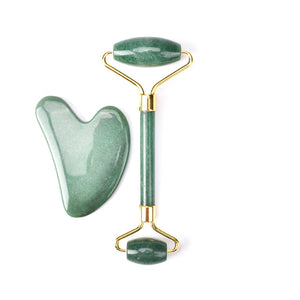 Benefits of facial massage:
Reduces puffiness and inflammation

Stimulates blood circulation and boosts collagen production

Promotes lymphatic drainage

Eases muscle tension

Maximizes effects of any serum you apply by deeply penetrating ingredients
How to use:
Start with cleansed skin, and apply your favourite moisturizing oil or serum.
Facial Roller - work from the neck upward using sweeping strokes that go toward the outer edges of the face.
Gua Sha - glide gently up and out, starting with the neck, jawline, chin and around the mouth, then sweep across cheeks, under the eyes and from your forehead up to your hairline. 
**Tip: chill your facial tools in the fridge prior to use for an invigorating, cooling effect and maximum skin tightening benefits.